Theme:  Flowers
Colors: Purple, Teal, White, and Gold
Quote: Let Her Sleep, For When She Wakes, She Will Move Mountains
My husband came home to say that I had a prospective client (his co-worker) who would like for me to decorate their colleague's baby shower.  Did I say yes?  You bet!  I was unsure of what the mother-to-be would like, as I was told that she was very easy going,  kept her interests pretty close to the vest, and that she would appreciate anything.
So it started out a little tricky, but I was up for the challenge. I came up with a simple sketch to pitch to my husband's colleague, Shawn, to see if she liked it and sure enough…She loved it! She really liked the overall concept, (she nixed the balloons), but everything else she liked and was really excited about.
After our initial meeting, Shawn sent me an image of what the mother-to-be purchased for their nursery. It consisted of mostly flowers, and the colors were purple, teal, and white via Holly Pop Designs.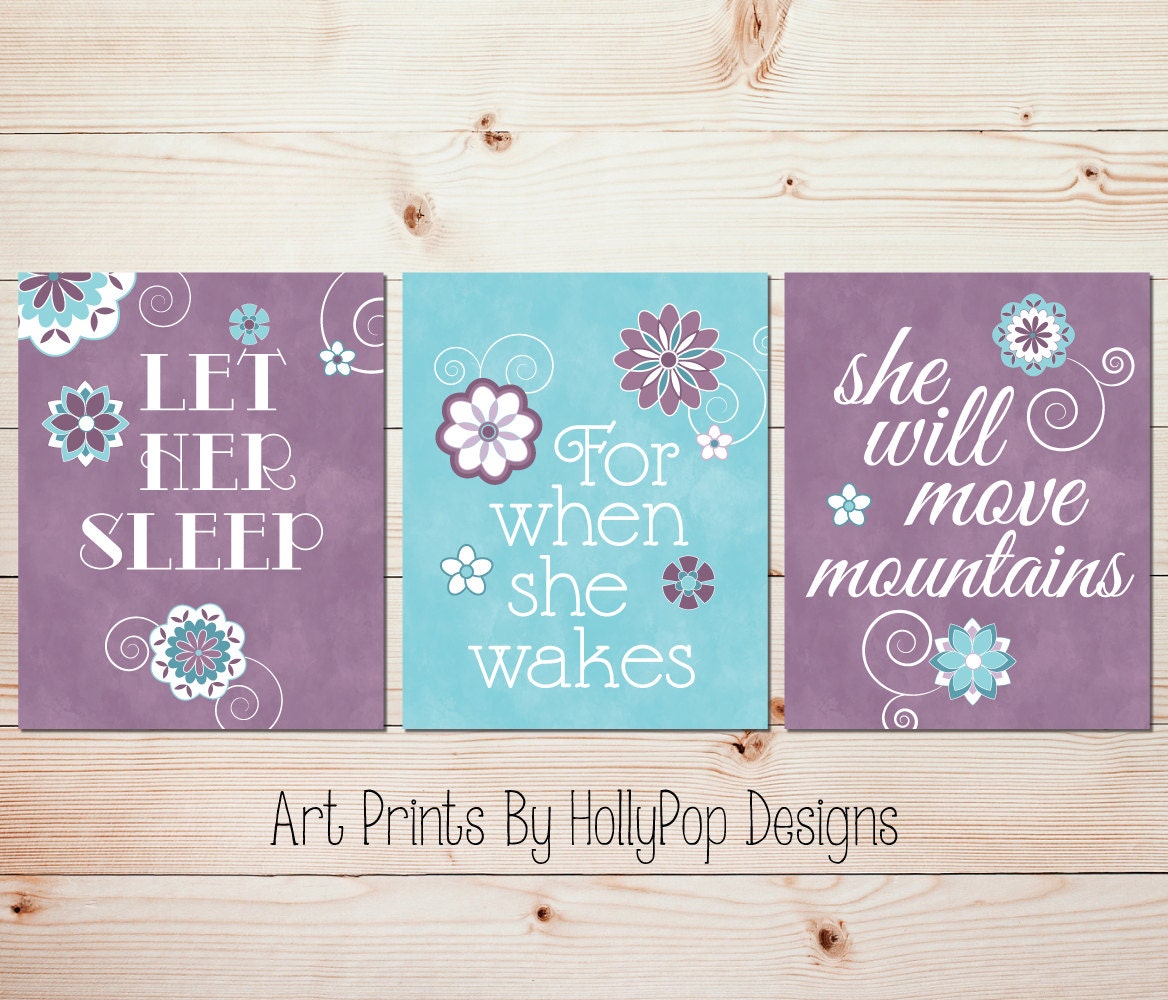 Let me tell you, I really truly wanted to make Shawn and my husband's coworkers happy.  I wanted to make sure that the mother-to-be was blown away and truly felt loved on her special day. The stress led to more than a few "craft blocks," where I just could not come up with how I would like the banner to look. Now that I had the theme established I couldn't move forward with it. After many nights of little sleep and staying up until the wee-hours with lots of DIY, I came up with these:

What you see above were these:
– hand cut individual felt petals to form the flower
– hand painted the signs
– hand lettered the writings on all of the signage
– banners cut and strung together
– tried my hand in water painting the flowers for the "sweet baby girl"
– cut and made giant paper flowers
– repainted the frame to white (framed the invitation)
– hand calligraphy on the "let her sleep, for when she wakes, she will move mountains"
I came to the venue very early to set up the decorations.  The drawing I had envisioned did not exactly translate  to the space I was working with.  I saw a video my husband recorded of the venue, the 9th floor terrace of the building. The area was large with lots of windows. Much of the wall space was taken up by the vending machines, cabinetry, refrigerator/freezer and sink.  I had three hours to make this work, but three hours gave me lots of time.
The result, everyone who helped out early, was so excited for the mother-to-be and her husband to arrive.   I wished I could have stayed to enjoy everyone else's reaction.  I got word from my husband that everyone loved it and were blown away!  Even better news, the daddy-to-be just won the Democratic Primary election to be DC Council At-Large!
Below is a slideshow of more pictures of the parents-to-be and guests:
This slideshow requires JavaScript.
Note: The main table was a bit bare, because I could not stay to help put up the diaper cake and two cakes that they had for the table.
My personal favorites:
~*Need A Party Planner?*~
Need me to plan and setup an event for you in the DMV area?
Would you like me throw an event just like this for you?  I can make this happen for your special occasion!  Feel free to reach out to me via merrylavenderevents@gmail.com or fill out the form below.